The meatheads and mutilations of Microsoft's flagship shooter franchise Gears of War might seem, at first glance, to be incompatible with the fastidiousness of the turn-based tactics genre. But not only does Gears Tactics work, and bring flavour to the genre that elevates the new game beyond a grittier clone of XCOM, but it highlights the layer of scheming strategy that's always been present in the series.
Here the cover taking, target prioritising and weapon management that makes up the core of the main game's furious firefights is codified into a top-down war game you can play at your own pace. That's not to say any of the series' signature aggression is lost — you'll still be torn apart if you let up on the pressure — you simply have access to more time and information to consider how your strategy will play out, or how you might escape a seemingly dire situation.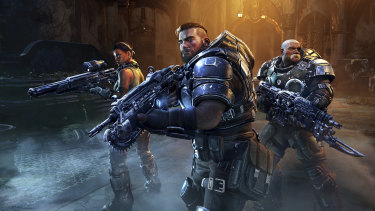 Like most Gears games Tactics sees you playing the part of COG soldiers against the monstrous Locust, who swarm in great numbers and comprise everything from fast scuttling wretches to berserk cover-breaking bombardiers to much bigger and badder foes.
Gears fans unfamiliar with tactics games should feel right at home here thanks to the smart adaptation of the series' guns, enemies and elements like active reloads and executions. Meanwhile tactics fans with no knowledge of Gears should be fine too, with the basics playing out similarly to genre king XCOM.
When sizing up a battlefield for the first time you'll need to assess the best placement and positioning to get your soldiers behind cover while being able to flank enemies and deal damage, but the numbers and endurance of the Locust means hunkering down is rarely an option. Each one is capable of taking a soldier down, and they require multiple hits to defeat, so constant movement and co-ordination is mandatory.
I appreciate that all hazards and enemy capabilities are clearly communicated in the UI, so any time you fail it's absolutely because of a lapse in your tactics.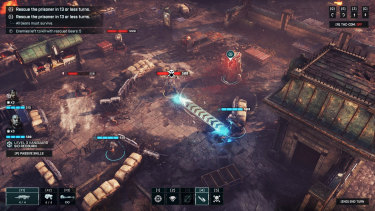 Each character has a certain number of points to invest each turn, and you can carve them up any way you like between movement, attacking, reloading, special skills and "overwatch"; setting up kill zones for grubs that happen to walk into the your line of sight on their turn. Of course the Locust follow the exact same procedure, and will use overwatch to pin you down as well.
Your units come in any of five classes — each assigned a classic Gears weapon and a growing suite of abilities — which brings a huge amount of depth to the strategising, while customisable gear even allows notable distinctions between units of the same class. Meanwhile the stable of Gears villains has been cleverly adapted to force frequent rethinking, for example hitting you automatically if you get too close to disable your powerful melee attacks, or charging you if you shoot at them and miss.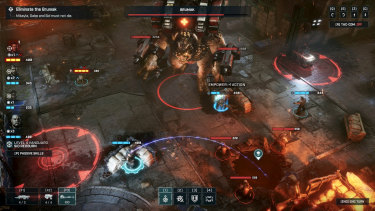 The entire design is overall very gratifying and creative, though it is lacking a certain tension that XCOM excels at. For starters there's no meta layer of strategy outside of battle to deal with, and your path through the story is pretty linear.
Gears Tactics also features "hero" characters which are important to the story and which you aren't allowed to get killed, diminishing the "any of your favourites could die" stakes. I did still enjoy customising random recruits with gear collected via the thankfully microtransaction-free loot box system, at least until I started amassing doubles of everything.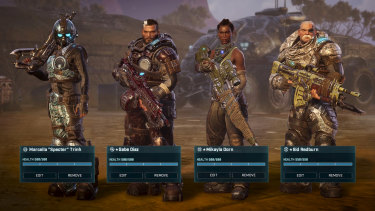 Prioritising story and character over the variety that comes with player decisions and randomised design isn't necessarily a bad call, although the narrative in Gears Tactics isn't especially revelatory either.
Turning the clock back to the very start of the war, the story follows Gabe Diaz — a master tactician, reluctant soldier and father of Gears 5 protagonist Kait as he's tasked with hunting the mastermind behind the Locust's biggest and most gruesome mutated creatures.
There's some nice backstory and context for series fans interested in how the COG operated prior to the main Gears games, and the character performances are great, but for the most part the story just serves to give you more interesting ways to kill and be killed.
Still, in moment-to-moment strategic gunplay Gears Tactics is a delight. Both as an extension of the franchise to a totally new format and as a bloody and aggressive take on turn-based strategy, it's a successful experiment that should satisfy anyone who enjoys both chess and chainsaw bayonets.
Gears Tactics is out now on PC.
Most Viewed in Technology
Loading