How to master the streaming universe
Fragmentation is the curse of the streaming age, so it helps to have an easy way to find those hidden gems.
Streaming was supposed to be entertainment nirvana, but we've all found ourselves trapped in scrolling hell as we search in vain for something decent to watch. Even back when Netflix was the only game in town, I soon discovered that searching for a specific movie or TV show usually ended in disappointment.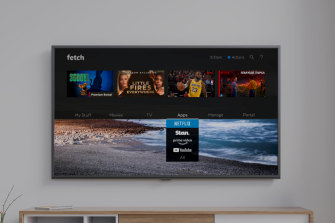 Rather than waste half the evening searching — while my long-suffering family rolls their eyes on the couch — it's easier to just choose from whatever's served up.
Even then, you can struggle to find something new which grabs your fancy. That's why the streaming giants have worked hard to polish their "content discovery" features; so you're always seeing new recommendations and don't start to question whether your entertainment dollar might be better spent elsewhere.
Of course there are still times when you're after something in particular. It soon becomes tedious trawling through all the rental services in search of a cult films like The Blues Brothers, or scouring the streaming libraries for classic television like Seinfeld.
If you're a tightwad like me, there's always that nagging doubt that you're about to pay for something which is hidden away in the back catalogue of a free catch up service or one of the libraries you already pay for. So I search that bit longer. Meanwhile, my family has given up in disgust and snuck off to the garage to rummage through an old box of DVDs.
Loading
Every streaming service naturally wants to keep you within its walled garden, so it fell upon content aggregators to come up with the concept of "universal search"; letting you search once and find everywhere. At least in theory, depending on their view of the universe.
The Fetch TV set-top box is the latest device to embrace universal search, letting you trawl through the libraries of all the streaming services it offers.
It's a pretty good cross-section covering Netflix, Hayu, 10 All Access, Amazon Prime Video, YouTube and Stan (owned by the publisher of this newspaper). On top of that, it also searches Fetch's own movie rental store, the five major catch up libraries and free-to-air stations.
Even better, if there's more than one way to watch something then you're given a list of options. For example, you'll find Seinfeld seasons 1 to 9 on Stan and Amazon, but season 7 is available for free on 10 Play. Meanwhile, there's probably a free-to-air episode on 10 Peach tonight and you can click to record that episode or the entire series.
At the same time, Fetch TV has also added a 24-hour "reverse" electronic program guide, which lets you scroll back to see whether what you missed is available via catch up.
Loading
Foxtel's iQ4 already offers a reverse EPG, but is still working on universal search. Meanwhile, universal search is built into the Apple TV set top box and Android TV devices.
Embracing universal search is a smart move by Fetch, realising that it's better to shore up its device's spot in your lounge room as a gateway to all the streaming services, rather than risk becoming redundant as we all spend less time watching free-to-air.
The obvious problem is that there are always new services coming along, such as Disney and Apple , and they don't always strike deals with all the streaming boxes. As such, websites like JustWatch still tend to offer the most comprehensive universal search.
With more streaming services on the horizon, it seems we're trapped in an ever-expanding universe.
Most Viewed in Technology
Loading